T

rendy Autumn Look – stylish eye-catchers for the new autumn season

Get your autumn started right on-trend with our sexy knit dresses. These figure-hugging designs in contrasting greek-key or houndstooth patterns create that Sexy Sixties look, so you can still look hot even when those first cool days arrive. One of our timeless classics in today's ultra-trendy beige-black will give you that perfect cut for your curves.
S

exy knitwear in a chic or casual look
Off the shoulder and with a wide collar, our knit turtleneck dress is a pretty eye-catcher just right for the autumn season. And during those last few days of summer-warmth, it means you can show off your curves as well as your gorgeous summer-tanned arms. Then on cooler days, you can create the perfect combination by wearing this dress with a black blazer – or add a black or beige cardigan if you want a casual look. Our sexy knit dress is also available in a black and white version.

Do you prefer a casual look? Then you'll love our short-sleeve knitted dress! Featuring striped cuffs on the hem and sleeves, it can be worn with high heels, but will also look great with just a pair of plain sneakers. As well as beige, this knitted dress is also available in red, pink, orange, mustard yellow or white with a black pattern.
S

winging Sixties look
Choose our long-sleeved knit dress if you want to enjoy a golden autumn dressed in an elegant style from the Swinging Sixties. Wide batwing sleeves give this dress a loose, comfortable feel, while the tight-fitting skirt will still emphasises your figure. Its V-neck, wrap style will at once flatter your pretty neckline, and also highlight your favourite necklace. And depending on the style you prefer, you can wear it with sexy boots or high heels.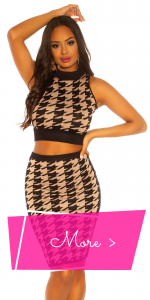 For an absolutely stunning combination, what about our matching turtleneck crop jumper and skirt set? When you wear this eye-catching XL houndstooth pattern, you can be sure all eyes will be drawn straight to your fabulously slim figure. And for shopping trips or an important date, this sexy set could perhaps be worn with a short black, leather-look jacket. So, for you, the outlook this autumn is sure to be hot!