Look hot on the ice with our Sweet Icy Look
Every Ice Princess should be warned: Wearing our Sweet Icy Look means you'll melt every snowman! Whether you're out on a winter stroll through the city, or taking a romantic hike through snow-covered landscapes: Our fluffy winter outfit will keep you warm in any weather, and will look great on the ice too!
The rhinestones on our sexy high-waist jeans sparkle like tiny ice crystals. A high cut is not only a fashionable trend right now, it's also very comfortable in cold weather. And this figure-hugging profile means you can show off your slender legs while ice-skating, or wear these jeans with sexy boots , or with a pair of cosy boots for a more casual look.
S

exy in the snow
Does winterwear always have to be thick and fluffy?! – That's just not true, because you'll always look great wearing our figure-hugging winter jacket with a detachable fake fur collar! Its sophisticated cut and blouson styling creates that feminine look and gives you a slim waist. The removable collar, made from black fake fur, is not only a trendy eye-catching feature, it will also keep you warm – and it's also washable and guaranteed vegan!
You just can't be without this fluffy XL scarf as an accessory for those cold days! Its a bright blend of green and red stripes on discreet shades of black, beige, grey or dusky pink which would go with any winter parka. It not only adds a nice touch of colour to your winter look, it's also cuddly and warm – definitely one of the must-haves in our current winter collection.
A  hot look for cool beauties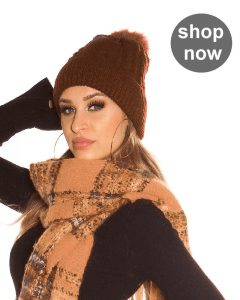 Our sweet knitted cap with a pompom is just perfect for this look: The trendy pompom is made from a soft fake fur (so it's also vegan), and will please more than just the snow bunnies! It works really well together with the classic cable knit of the hat, making it a cute eye-catcher which will be a perfect colour match in a black, burgundy or beige.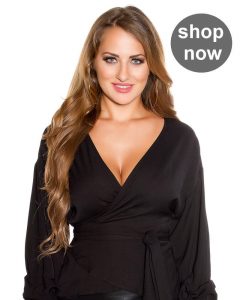 Our Sweet Icy Look can be embellished with our Sexy XL patterned creoles. Wear these trendy, XL earrings to create a brilliant contrast to your hat and scarf and give your snow outfit that touch of royal elegance. A classic jewellery accessory, these hoops are perfect to wear in combination with any look, and their delicate, stylish detail will give your winter outfit an air of cool beauty.