S

exy swimwear for the sun, the beach and more!

It's going to get pretty hot on the beach with these looks: Our sexy bikinis and one piece swimsuits are guaranteed to show off your great figure. This Pretty in Pink collection introduces you to some of our favourite swimwear for the summer season. Because pink is not just for expressing your femininity, it's also the perfect choice to highlight your summer tan and just feels so good to wear!
T

he monokini – this summer's must-have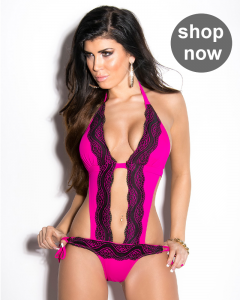 With a daring cut out which plunges to your navel and beyond, this sexy Koucla® monokini with lacing and a halter neck will emphasise your curves like no other! Choose the black one with lace detailing for a real contrast to pink and you'll get yourself a real eye-catcher which is sure to attract everyone's attention at the pool and on the beach.
Offering classic elegance with a clever cut, this sexy Koucla @ monokini with a halter neck is a sure way to make an impact. Featuring asymmetrical cutouts on the sides, it accentuates your slim waist and will look great when you're swimming or sunbathing. To add an extra touch of glamour, the waistline is decorated with small rhinestones which sparkle like water droplets in the sun.
F

or mermaids and sun worshippers
Does 'less is more' do it for you? Then a sexy Koucla @ bikini with sequin trim could become your new favourite bikini for the summer: with this scanty triangle top and bikini bottom you're sure to catch just about every ray of sun on the beach! It's decorated with playful rhinestones and sequins which will shine just like sunlight on the water and show off your figure to simply stunning effect.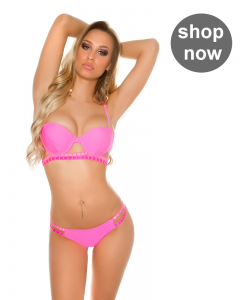 In this sexy, romantic-look balconette bikini with playful braided ribbon beneath the cups you'll instantly become a hot beach babe! And with practical, removable straps it can also be worn many different ways: Either on its own for (sun)bathing, or perhaps with a beach dress or shirt with a boat neckline, it will still offer plenty of support without shoulder straps.
And don't worry if you prefer a sunny yellow colour rather than a pretty pink, because you can still wear these hot looks! You'll find our sexy swimwear is also available in many more of this season's trendy colours – from a bright orange, red or turquoise through to classic looks in black or white.